We are so excited to worship with you all again!
We re-opened on May 31. It is so good to be back together. We continue to gather each Sunday morning, 10:30 a.m., under the Safety Guidelines you'll find below.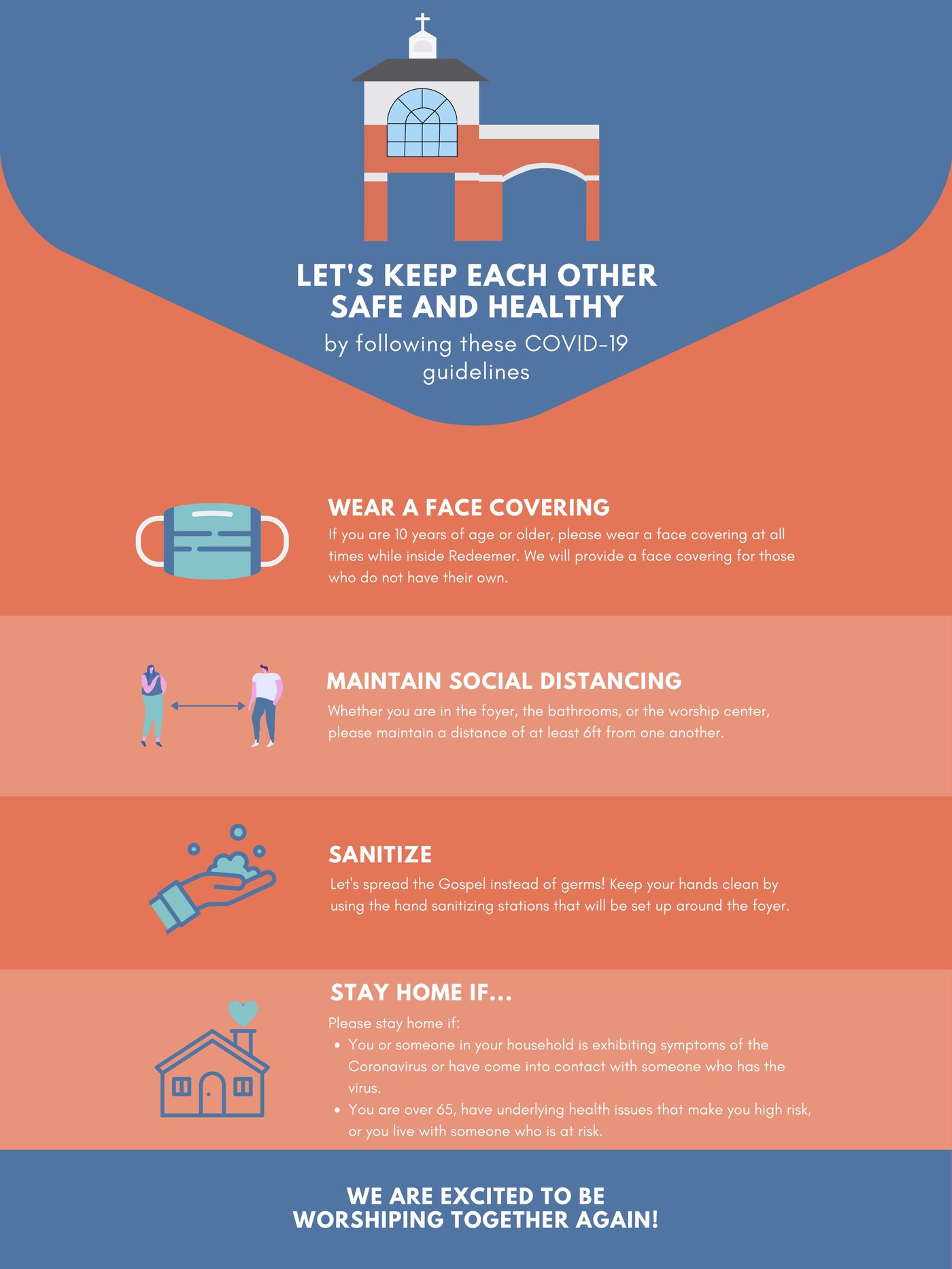 Safety Guidelines for Live Worship Services on Sundays:
Redeemer Community Church
We will follow the suggested guidelines put out by the CDC, Texas Governor and local authorities.
The only portions of The Main that will be open will be the Foyer, Bathrooms, and Worship Center. All other doors will be locked.
All children, Kindergarten and up, are required to wear a face-covering while they are in Kids Ministry. This means that K - 3rd graders don't need to wear a face-covering while they are seated next to you in the Worship Gathering. But, when they are dismissed to go to Kids Church they will need to wear their face-covering during that time.
We will clean surfaces, handles and other frequently touched surfaces before, during and after the Worship Gathering.
We will provide hand sanitizer throughout the building and in restrooms.
Please bring your own face coverings. However, we will provide face coverings for those who attend but do not bring their own to wear.
We will have all volunteers and staff wearing face coverings and practicing physical distancing, excluding those on stage during worship and teaching.
We will offer a touchless worship experience. Doors will be held open in order to limit contact with handles and surfaces. There will be no programs, offering baskets or communion plates. Please use redeemercommunity.life to see announcements and the like.
We will provide seating during worship that is in accordance with guidelines allowing for physical distancing. There will be about 175 chairs in the Worship Center. These chairs will be scattered at least 6' apart in groups of two to seven chairs. Please sit with those you come with that morning.
All Attending: We ask everyone, out of love for others, to do the following so that our gathering will be safe for those attending:
Wear a face covering while in the building. If you don't have one, one will be provided for those 10 years of age and older.
Practice good hygiene by washing hands and using hand sanitizer.
While the seating arrangement will promote social distancing during the Worship Gathering, please practice the same throughout the morning.
We ask everyone attending to lovingly respect the physical boundaries of others, refraining from handshaking, hugs and other touching at this time.
We also ask attendees after the worship service, to move from the worship center to the parking lots, without lingering in the foyer. Anyone wishing to visit with others should do so in the parking lot after the service while practicing appropriate social distancing. Please do not gather in the sanctuary, foyer, doorways, or entry ways.
Don't attend?
Of course, please don't attend if you are sick, have a fever, or suspect you may have come in contact with someone who had COVID-19.
We encourage people over 65 or those with health issues not to attend for now. Be assured we will do our best to provide a quality online worship experience each week. The live feed will begin at 10:20 a.m. and the Worship Gathering will begin at 10:30 a.m. at this LINK.
And obviously, don't attend if you feel uncomfortable, feel that it would not be an enjoyable worship experience for you, or just are not ready. The choice is yours—we will warmly welcome you when you are ready.